Claim pipeline automation will help you allot the claim-related deal cards to any specific agent.
How the claim-related deal cards will be created in InsuredMine from AMS 360?
First, you need to create the claim by filling in the following information in the AMS360 portal
The details that are to be filled in are the Claim number, Kind of loss, Policy details, loss date & time, and description of the loss. The first four are mandatory.  Once these details are filled in, the claim cards will get created in the Insuredmine portal too.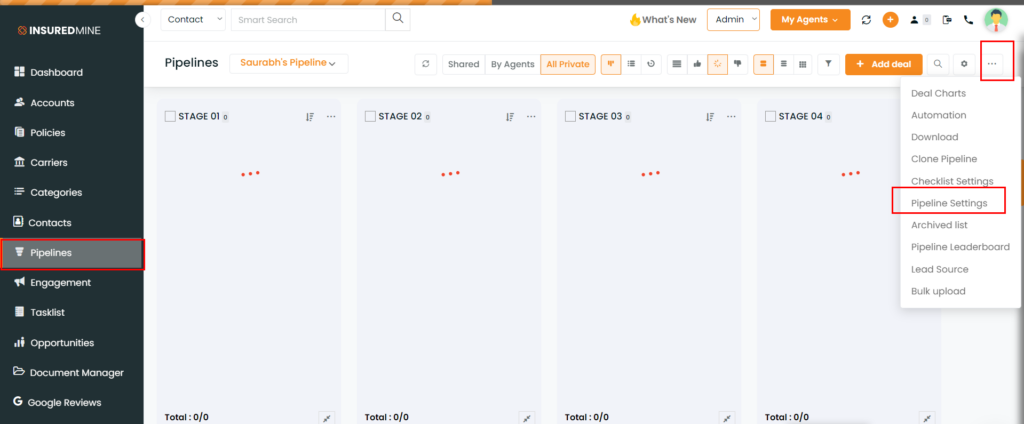 To set, the claim pipeline automation:
Log in to Insuredmine portal as an agent.

Navigate to Pipeline

Logged in agent should be an admin user in Insuredmine

Click on the action button (3 dots) and select settings

Click on Claim Pipeline.

To enable Claim Pipeline, you need to move the toggle bar to 'On' mode.

You need to select the default pipeline and stage.
Note: One policy can have multiple claims, which means multiple deal cards can be created for different claims.
Select the agent to whom you want to assign these claim cards- executive, representative or can even select some agent And in case if the executive code is not matching with the policy it will go to the house account. 

Move the toggle bar to select where these claim cards are to be created, in the private or shared board.

Set the pipeline as default or you can customize it as per requirement.

Once the claim pipeline automation is set, you will get a success notification saying: Claims pipeline settings saved successfully

Once this setup is done whenever a claim is created in ams360, we will create a deal card in Insuredmine as per the settings that have been made by the agent.