In this article, you will learn:
Goal management is more than just assigning objectives and reviewing employee performance. The true purpose of having management goals is to use and develop your employees' talent, skills, and experience while helping your organization meet its overall goals. 
Here is how you can do it.
Login in with the manager/admin account and then go to the Pipelines

2. Select the board for which you want to set the goals for.
2. Click on the Settings option.

3. Click on the Add Goal button and fill in the required details.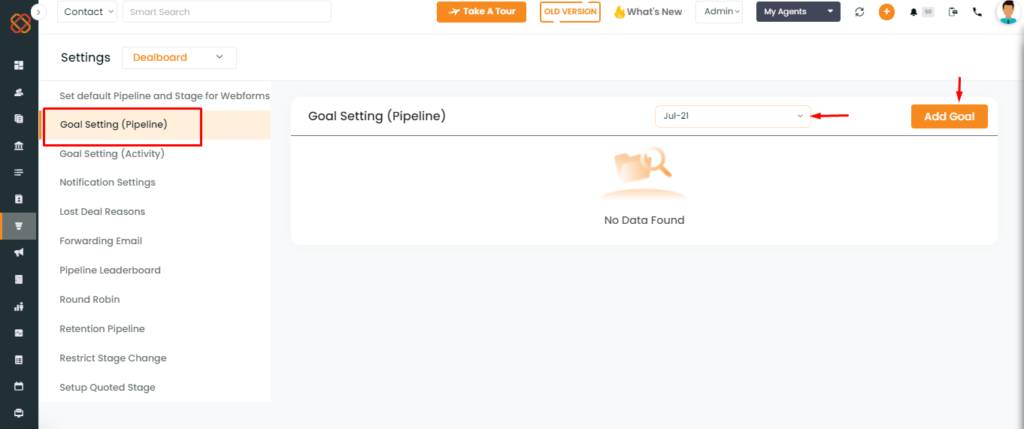 4. Add as many agents as you want. You will also be able to edit or delete an assigned goal for a particular agent.

5. After your goal is set, you can keep a track of the progress made by the agents from the widget "Team Performance" on the dashboard.
You will be able to filter the goals by month, different pipeline, or by value. You can also view your personal goal progress by switching to Personal.
Note: You can set separate goals for each dealboard on your pipeline manager!
Goal Management for Agents
Agents can now track the goals their managers have set for them and make sure they stay on target. You can find the My Goal widget on your Dashboard and follow your progress
Just click on the drop-down to choose the deal board for which you want to see your goals.
Setting goals for multiple agents for multiple months simultaneously
The quantifiable targets can be more clearly defined with the recent upgrade in the goal-setting features.  The goals can be assigned to multiple agents in different months. This functionality earlier reflected goals for one particular agent in a particular month. You can now create and manage goals for efficient performance analysis.
Steps to add goals for multiple agents
Navigate to Pipelines.
Click the Gear icon and select Settings.
In the Goal Setting segment, Click Add goals
Select the months to set targets and choose the assigned agents names from the Select Months and Select Agents respective dropdowns as shown below.
Add the total number of deals in Total Deal and deal value aggregate Total Deal Value fields.
Click Save.