In this article, you will learn:
PL Rating is a real-time, comparative rater that enables agents to close business quicker. You can easily quote for multiple carriers and grow your personal line business.
Note: There are two PL rater forms in the template section- One for Home and another for Auto
How to send PL Rater form?
Once done click on submit button
Once you submit the PL rater form, you can find the form in the form list.
Navigate to the settings icon and click on it.

A pop-up window from the right will open, where you need to enable the PL Rater option and click on Save.

Note: Enabling PL Rater option can be only accessed by Admin/Managers.
After saving you can send it to any of your contacts.
Navigate to Pipelines and open the deal card.
Import the PL Rater form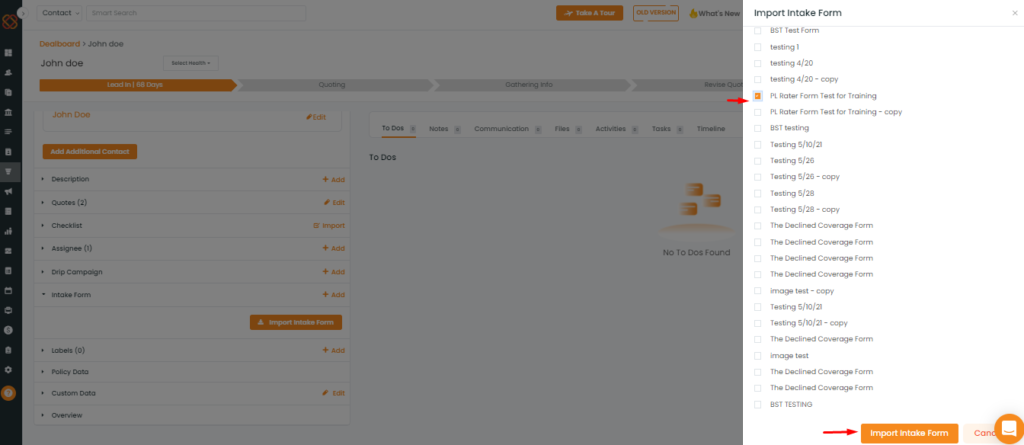 Once the form is imported you can send it to your contacts.
Once the contact whom you have sent the form to has filled in and submitted it, you can preview the PL Rater form and make necessary edits if required.
Once the form is submitted, click the "Sync to PL Rater" button.
Once the data is pushed, you will get a notification saying PL Rater synced successfully.
Click on the "Go to PL Rater" Button, there you will find the PL rater button, Clicking this button the data will get synced to PL Rater and you will be redirected to PL Rater Portal.