In this article, you will learn:
Everyday we slice and dice our data to scoop out a subset of clients for a broad spectrum of reasons from sales to service. It is just a waste of time if you need to recreate that same subset multiple times in a day or week. Would it not be fantastic to be able to save that segmented report of the client and use it for multiple purposes over an extended period of time.
Navigate to Reports from the left panel.
There will be 4 report sections- Project Book of Business, Personal Data Book, Saved Reports, and Shared Reports.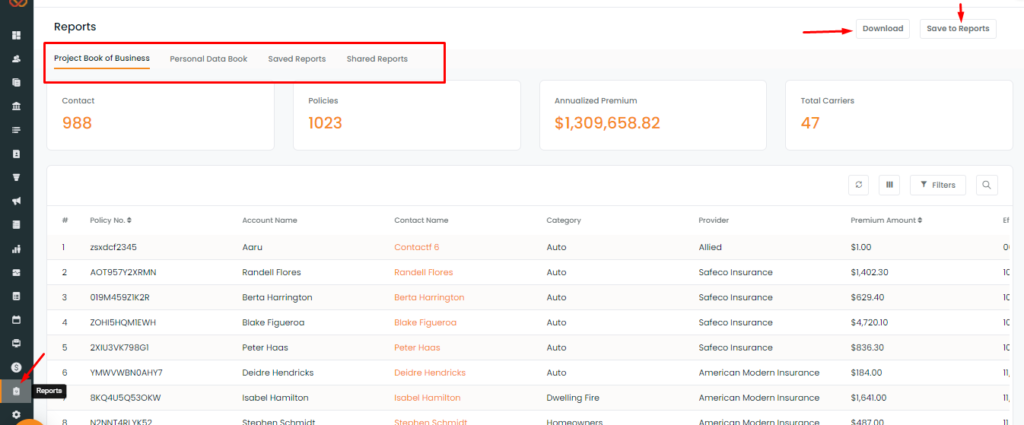 How to sort table columns for a report?
Click on the table column icon.
Select and the desired table columns.

How to Filter the reports?
Click on filter icon
Select the filter to get an expanded view with all the options.
Select the desired filters.
Click on apply.

How to Download the report?
Click on download.
The excel format of the report will be saved on your computer.

Click on save as report
GIve a report name
Click on save
You can find the saved report in Saved Report section.
 You can set a run time for the saved report.
You can download, move, share, run or delete the saved report.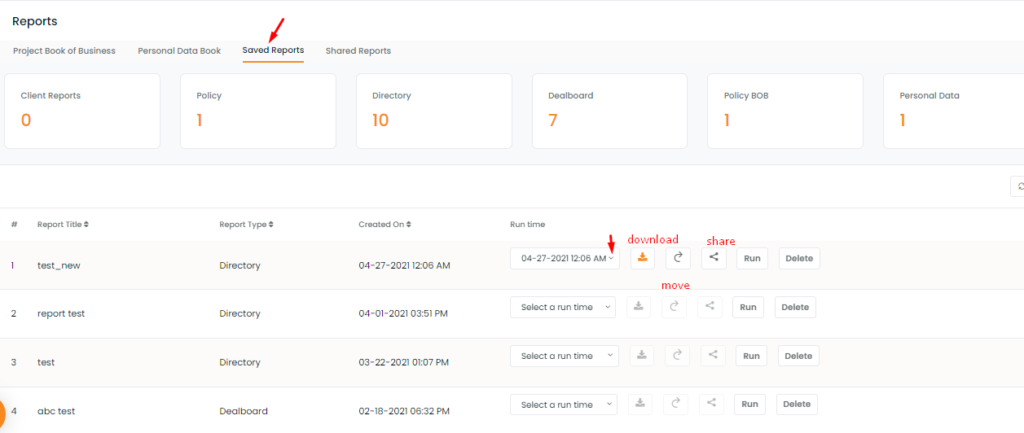 Group by option in Book Of Business and Personal Data Book Report
Group by option in Book Of Business
You can now filter your reports based on Group by option. Group by option will help to sort and manage large data based on the some data point options.
By default you will get the Group by Agents option. Click on the drop-down to select from the following options:
Agents, Carriers, Categories
Note: For AMS 360 users- The business units will be available, ie.  Executive, Representative, Division, Departments, Branches and Groups. 
For AMS 360 users:
For non-AMS 360 users:
So, based on your selection you will get the policy list, click on the number to view the complete list of policies below in table format.
You can save the reports by clicking on save to reports or can even download the data. You can also sort the table by selecting some filters of your choice. You can even select the table column to view the report accordingly.
Group by option in Personal Data Book 
Personal Data Book is related to policies so the group by options will be different from Book Of Business. In the Personal Data Book you will get a group by options for Agents, User Types, Policy Count, Divisions, Departments, Branches, and Groups. 
For AMS 360 Users:
For Non AMS-360 Users:
If you select any group by option , for example user type, you will get a report, and if you click on the contact count, the list of contacts will be flashed below. You can download or save reports. You can also sort the list based on desired filters, and can even arrange the table by selecting the table column of your choice.