In this article, you will learn:
With the work email feature at InsuredMine, you can sync your work email address with your agent portal. This feature will enable you to send and receive emails without switching to your actual email service provider.
Connecting you work email
Setting Up Work Email with InsuredMine
This feature works like your inbox, but better. You can use pre-designed templates while sending emails to your clients.
Search throughout your inbox
Mark an email as Important
Mark an email as Read
View Attachment in Email
Track your Sent Emails
Note: To use this feature, make sure you have connected your email to your agent portal.
Work Email – Inbox

Track your Sent Emails
Add Deal into Pipeline from Email
Forward emails from work email
5. On the send email screen, make the desired edits, add recipients and click Send.
You can connect your work email contacts with InsuredMine. Now quickly add deals, view details, and communicate better with all functionalities in sync. The work mail contacts are visible in the Contacts module of InsuredMine in a 360-degree aspect. So when you need to type in an email address in a new email – it will not be an issue.
Add contact option in work email contact section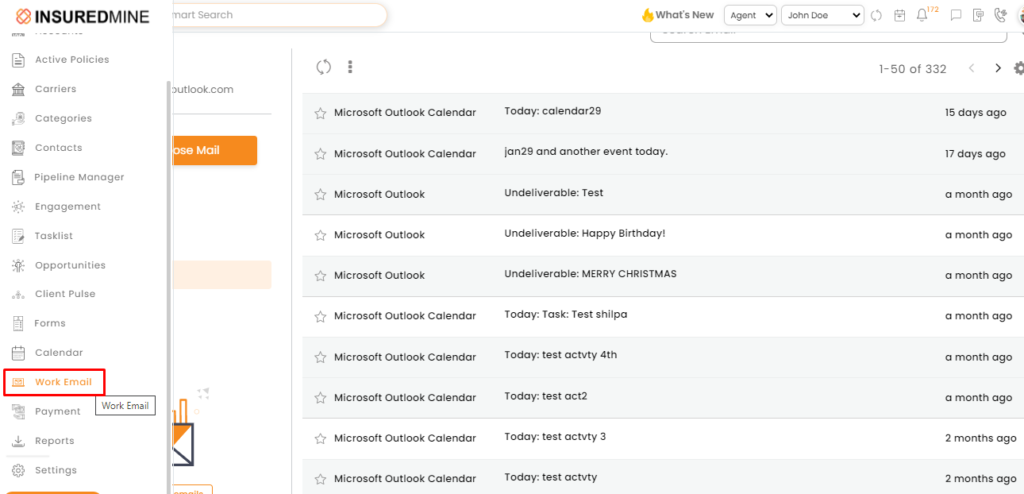 Click on the 3 ellipses(…) under the Action section beside the contact you select.