In this article, you will learn:
Pipeline is a structured table with multiple stages to define your sales flow to move your deals from left to right from one stage to another until closed. Pipeline Manager helps designate your sales process, overseeing and directing future sales in various stages.  It helps you see where you are in the Sales Process with each client which makes it easier to follow up and ensure deal closures.
Pipeline Manager allows you to have multiple pipelines to manage each process within your agency.  Perhaps you have separate processes for different products or services. This module enables you to keep track of each process and ensure each agent follows the same process.
There is no limit on the number of pipelines/dealboards you can create.
Pipeline Board is also known as Dealboard.  
How is a pipeline board created?
Pipeline Board can only be created by the Admin. You will get a default Board set up for your agency but if you need to create additional boards, only the Admin has access to do so.
Click on How to Create Pipeline Stages to get step by step information. 
Login to your admin account
Go to your Pipeline Manager module from the Navigation Panel on the left.
Click on the Orange Boards icon and select Create New Board.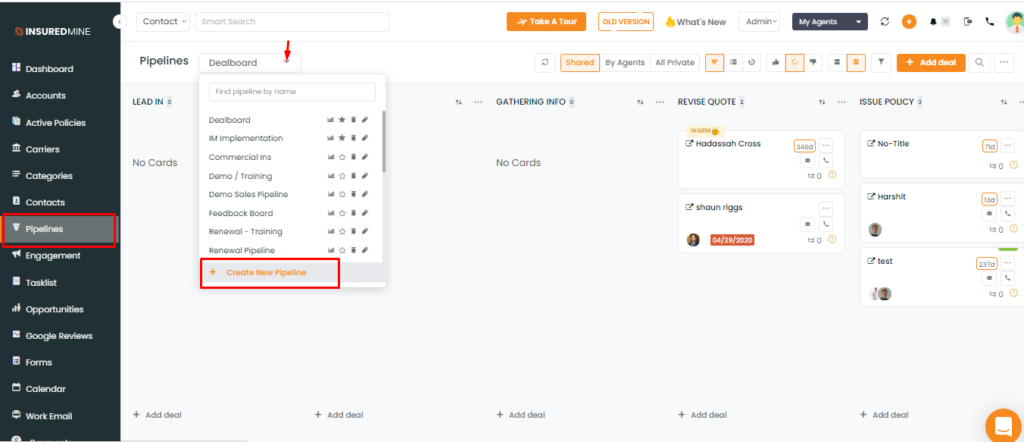 4. Enter the name of your board.
5. Select Category Type:  Default or Custom
Default will automatically provide you a drop-down menu with all of the available categories for the types of deal
Custom lets you choose the categories you want for your dealboard.  Perhaps you just want to have 2 categories: Home and Auto. You can customize it here so you will only have these two items in your category drop-down menu.
6. Enter the stages of your sales process.  I.e. Reached out, Gathering info, Quoting, Sales, etc
How to move from one board to another?
Once you've set the new pipeline, all users can access the new pipeline. You can switch to your required pipeline by clicking on the name of the pipeline from the drop-down menu.
What is the star sign near the board names?
The star next to the board name allows you to "star" your priority boards.  The starred ones will appear at the top of your list like favorites. For now, Prospect Board is third on your list.  Once you click on the star, it will move up the 2nd row. Now, whenever you come to your Pipelines, your starred boards will always appear at the top of your drop-down list.