In this article, you will learn:
We are ensuring a better user experience, and that is why we are updating our Pipeline Manager section with the latest features and updates for comfortable usability. 
This update will help you have a detailed view of the lead source and how many leads each source has referred to. This update is majorly done for a better business purpose.
You can now have a detailed view of the number of deal cards you have got from different sources and can have the necessary contact details such as email and phone number of the clients to whom the deal cards are sold.
How to view the Lead Source section?
Navigate to Pipelines.
Click on the 3 dots icon (action) to view Settings.
In this table view, you have the source name, source contact details, and count of leads sourced.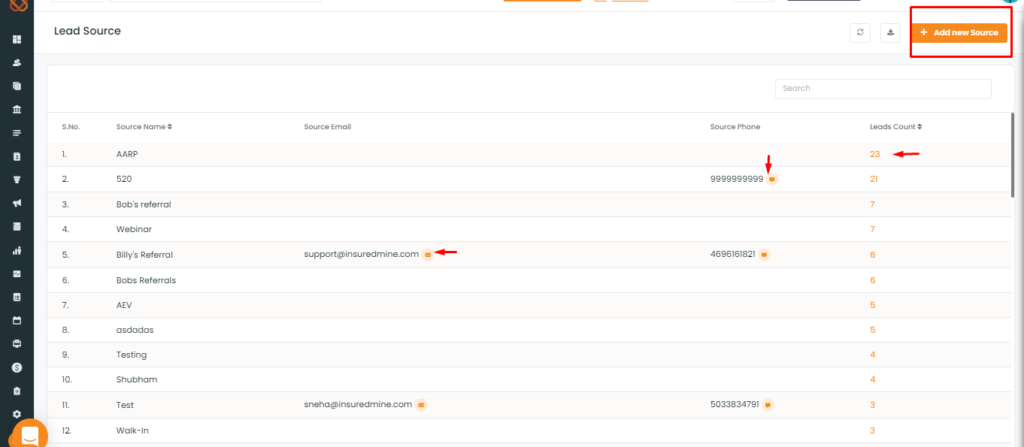 Click on the leads count, for a detailed contact view of the lead source including their phone number and deal cards for each deal.
In case you also want to view the details of the deal card of the particular client, you can click on the deal card icon, to navigate to the page to view deal details and current status of the deal cards.
With a Lead Source table you will have complete visibility and you will be able to differentiate the winners from others. Know how much business you are writing with each one of them and how you need to invest in them in future.
Search, Sort, and Download Lead Sources
Now you can search, sort, and download from the lead source list.
To check the enhancement:
Navigate to Pipelines
Click on the action icon
Select Lead Source
Search- You can search your Lead Source list by typing name in the search section
Sort- You can sort leads based on the Source name (alphabetical order) or can sort by Lead Count
Download- You can click on the download button to download the lead sources