InsuredMine issues automated workflows that trigger email/text after a new policy. If the New Policy trigger is enabled, the system will notify clients of any new policy purchase with trigger days notice.The process to create a workflow whenever there is a new policy issued:
Navigate to Engagement
Click on analytics in Automation
Click on create workflow
Select the New Policy workflow and click on get started

Set the workflow name
Select the mode to send the workflow- email, text message (SMS), task, reminder, Postcard/Letter/Notecard(Thanks.io) and Voicedrop
Note: For Postcard/Letter/Note card you account must be integrated with Thanks.io) and for Voicedrop you need to have Slyboard integrations.
Set the filters by clicking on the filter icon provided on the right side.
Select the policy categories to include.
Note: The policyholder who falls within the selected policy categories will get the new policy communication that you will set.
Set the trigger condition when and after how many days, the communication will start.
Once done, click on begin to start the workflow.
Set the stages of the workflow.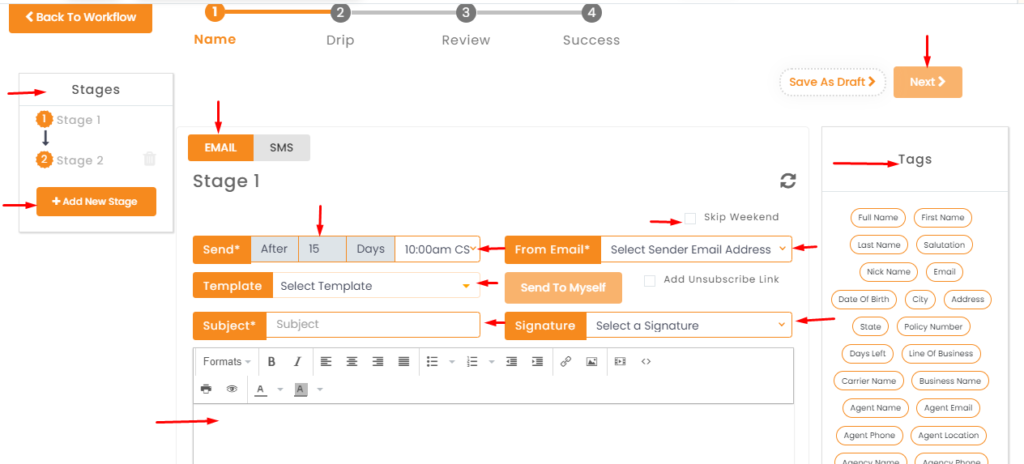 Click next to review the workflow
Select the checkbox to enable Agent Email Notification. 
Note: Enabling this will send an email notification to the selected agents, once the new policy workflows trigger.
Click start to start the automation.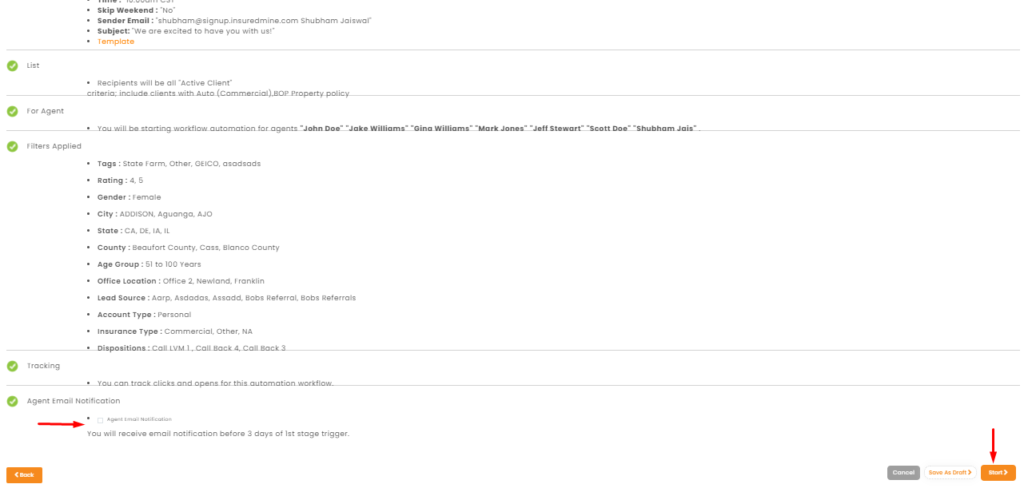 You will get a confirmation message that the workflow has started.
Or you can also save it as a draft to use later.
To track the automation, go back to engagement and click on analytics. Here you can track, edit, delete, pause the automation. 
You can also see the complete details by clicking on the drop-down button beside more details.