The 3 dot icon in the Pipeline will lead you to all the major functionalities/ actions that are necessary to set the pipeline as per your requirement. These functionalities will allow you to make the best use of all the features of Pipeline Manager to get the best sales results.
Deal Chart– Deal Chart is basically Sales Pipeline reports that are provided to have a better understanding of deal activities, conversations. You can have a complete pictorial view of all the deals in the selected pipeline.
Pipeline Automation– Through Pipeline Automation, you can set instant communication with the respective clients at a given point of time and trigger. You can set automation to engage your prospects and for initiating consistent communication throughout the sales process.
Download– In case you want to download the deal reports of the selected pipeline just click on the download option to fetch the report in an excel file.
Clone Pipeline– If you want to create a similar pipeline with all the stages, automation and lost reasons, then this feature will help to create one.
Save as Report– If you desire to save the dealboard data click on save as report tab.
Checklist Templates– Checklist helps you to keep track of the deal status that you are working on. You can add and share checklist templates with other agents.
Archived List– You can give a detailed list of all the deal cards that are archived from the selected pipeline.
Pipeline Leaderboard– Through Pipeline Leaderboard, you can view the projected analysis of the performance of each agent. You will also have an analytical view of the won and lost a deal, weekly tracker, and a lot more.
Lead Source- Through Lead Source, you will get a detailed view of the lead source and how many leads each source has referred to. This update is majorly done for a better business purpose.
Bulk Upload– You can create deal cards in a pipeline by uploading a CSV file format. This will help you to create multiple deal cards at one go!
How to connect email while using old version of InsuredMine
If you are using the old version of InsuredMine, the video guide below explains how to connect your email.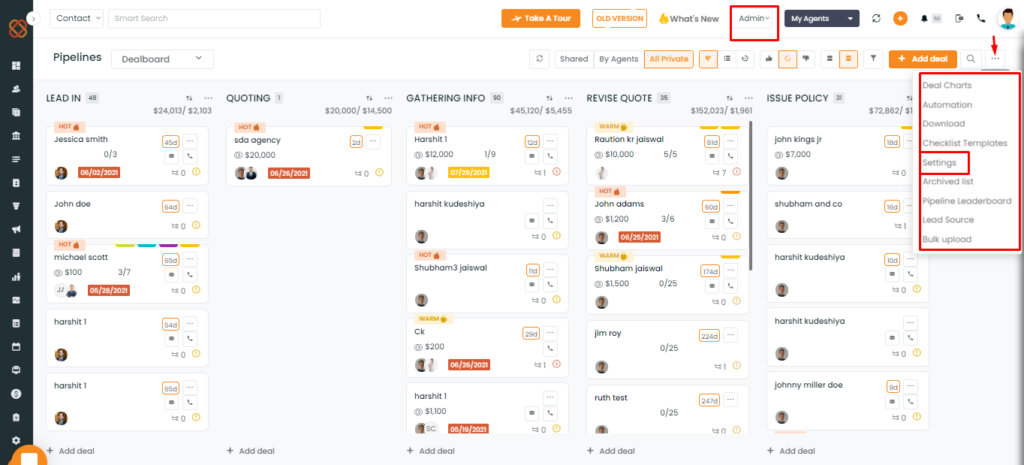 Settings– Through this section, Admin can set, manage and control the whole Pipeline. He can set the default pipeline and can manage the goals, notification, retention pipeline, stage change, and a lot more.