In this article, you will learn:
Thanks.io is a third party system integrated to InsuredMine platform to send personalized Postcards and letters. Helping agencies to connect with the clients offline using online resources. Integration of Thanks.io and Insuredmine will help you create drip campaigns with comprehensive engagement to reach and nurture clients and prospects in both a tangible and digital space. This integration brings opportunities to create new touchpoints with contacts. 
How to integrate Thanks.io with Insuredmine?
On Thanks.io , Generate a token and send it to Insuredmine. Follow the steps mentioned below:
Navigate to Settings by clicking on the gear icon in Thanks.io and select API access.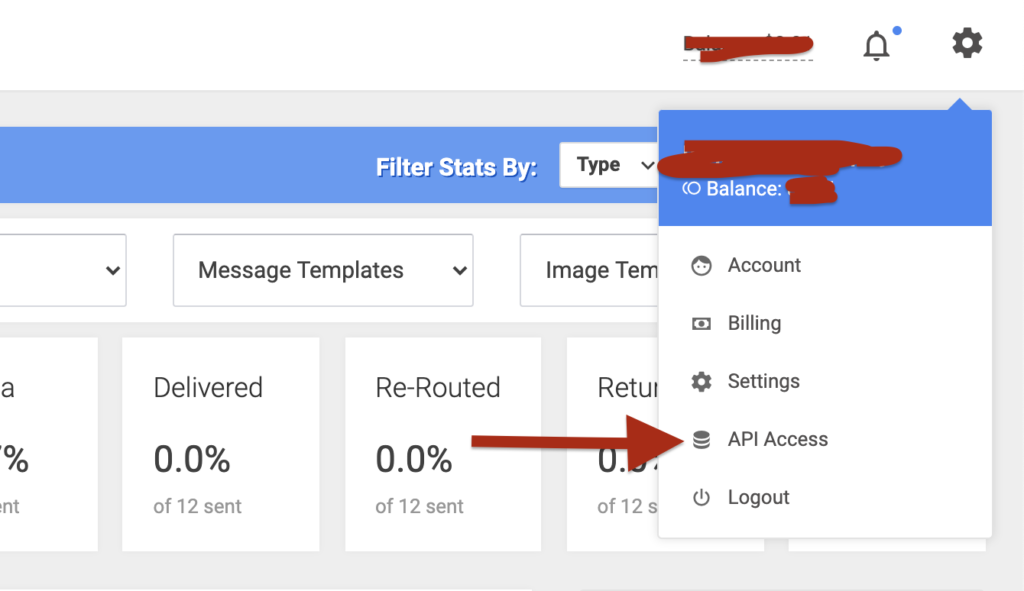 2. In the Personal Access Token segment, click on add icon (+) to create a token.
3. Enter token name in Create Token pop-up and click Create.
A token will appear on the Personal access token screen, Copy this token and send it to support@insuredmine.com . This way your Thanks.io account will be connected with insuredmine.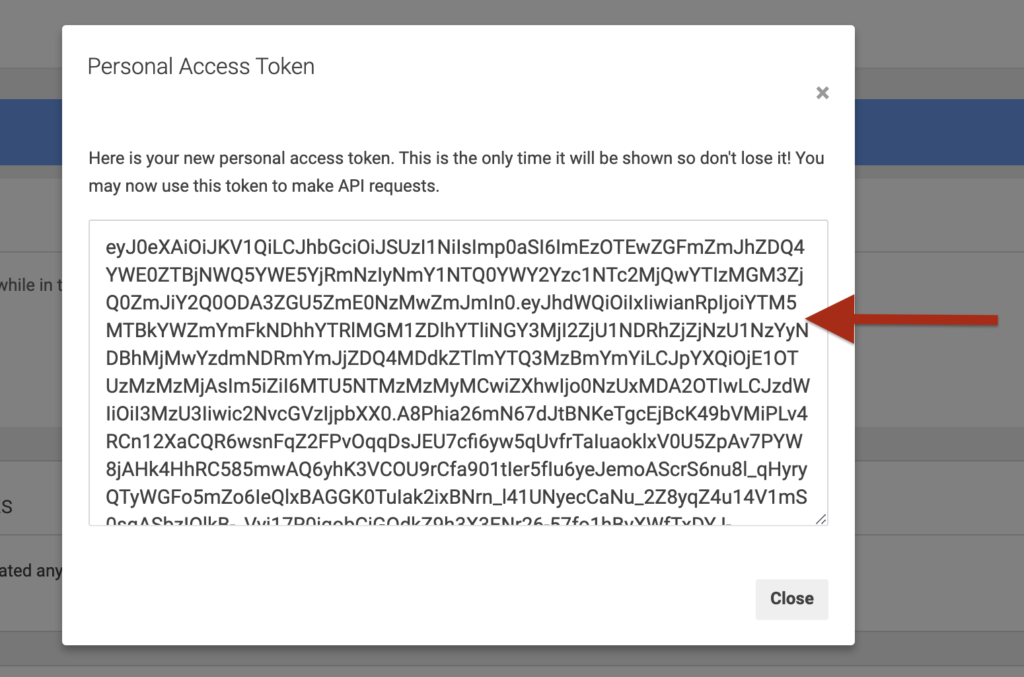 On Insuredmine Agency Portal
Navigate to 

Settings 

click on Integration and select

 

Thanks.io 

and click on

 connect.
2. Enter the access token and click on connect.
If your account is not connected then – a prompt message will appear "Please contact support to connect your account with Thanks.io. Click Contact Support.
Submit a support request and your account will be connected soon. 
There are 2 methods to send postcards/letters fromThanks.io through your Insuredmine agent portal.
When a campaign is launched with trigger stages to send postcards or letters through Thanks.io in the Engagement module of Insuredmine, the order is placed in Thanks.io to send the postcard. You can integrate your Thanks.io account and track the order analytics on it. The automated workflow is discussed in this link with the use case of Birthday and clients turning 65. But, it can be equally beneficial for Policy renewals, Welcome Communication, Thank You Communications, and/or Customized workflows.
The Quick Add icon allows you to send customized postcards/letters through Thanks.io. This is also a simple way to send physical postcards/letters if you do not want to create drip campaigns.
Follow the steps mentioned below, to reach out to your prospects or clients.
Click on the Quick Add icon at the top right, on the Insuredmine dashboard or any other module.
Select send Handwritten Card (Thanks.io) from the list that appears.
On the Choose what to Send window, enter the details listed below:
Name: Enter the Name of the contact to whom you want to send a letter or postcard.
Address: Address of the contact (Will be based on the name and the associated address.)
Message Template: Select your template that has been created in Thanks.io. (Make sure the template was created before you start the process in InsuredMine Portal)
Type: Select postcard or letter
Handwritten style: Select the writing font style for the message to be displayed.
Image Template: Select the template already existing in Thanks.io.
Type Message: Enter the message content that you wish to convey in the postcard or letter.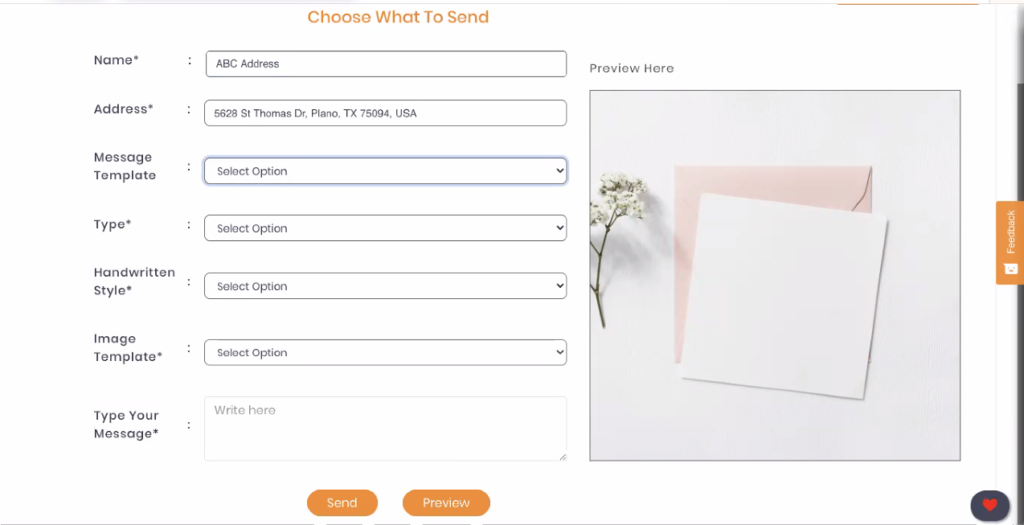 4. Click Preview to review the design, placement, and style of the postcard or letter Click Send to place the order for sending Postcard/Letter in Thanks.io
Your order will be displayed on the Thanks.io's website and you can track the status there.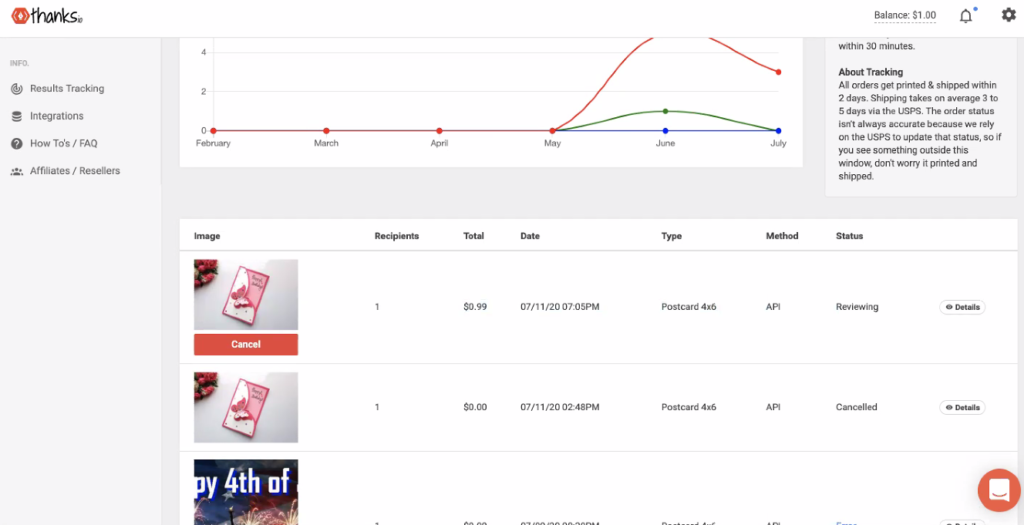 The transaction dashboard button on the top right corner of the Insuredmine Screen will appear when an order is placed. Tap to view the order details as shown below. 
If you don't have the Thanks.io integration, click on the referral link to get started.