In this article, you will learn:
Google My Business Reviews
Now you can connect your Google My Business account at InsuredMine portal and can manage the reviews from the portal itself. (Now you can get all the Google reviews and respond to the review from InsuredMine to Google My Business)
Note: Initially the Admin has to integrate Google My Business account by connecting it to the InsuredMine portal. Once that is done, Google Reviews can be accessed by all Agents.
How to connect to Google My Business Account
Navigate to user account settings
Click on integrations
Click on Connect Google My Business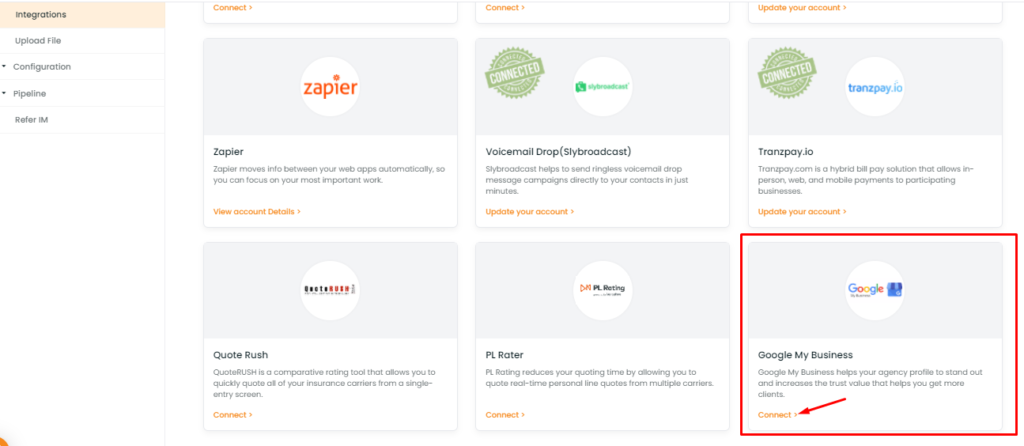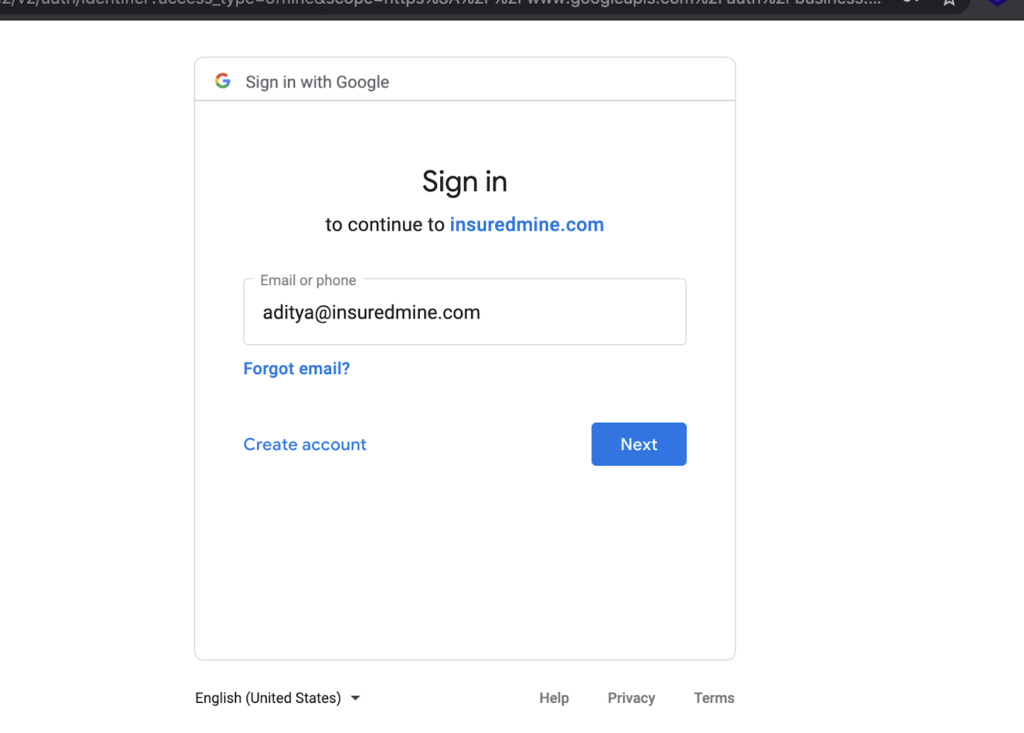 Once your account gets integrated with the Google My Business account, it will show as connected.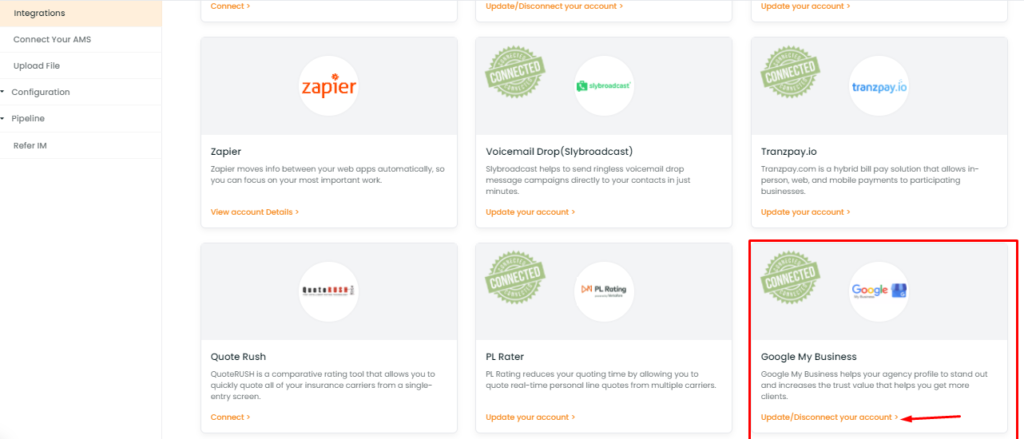 Note: Make sure you are connecting the google account that is associated with Google My Business Account.
Setting Default Location for Google reviews
This enhancement will help you to request reviews for each operational office or business location that you have. You can have individual responses for each location from where your company operates and thus your business can stand out from others.
To take google reviews of each business location that you have, you just need to set the office address as the default location for which you want to grab the reviews. 
Use Case: If you are operating from three different locations, and want to take reviews particularly for any one office, then you can set that office address as the default location.
How to set the default location for Google reviews?
While integrating your account with Google my Business, you will get an option to select and set a business location from the multiple business locations that are connected to your account. Once you set the default location, the same will be reflected in the Google Reviews section and the reviews will be updated for the same. 
Business location access for Admin & Agents
As your business may be present in different locations, you can associate your agents with each of your locations. This enhancement will help you have a more accurate view of your reviews based on location.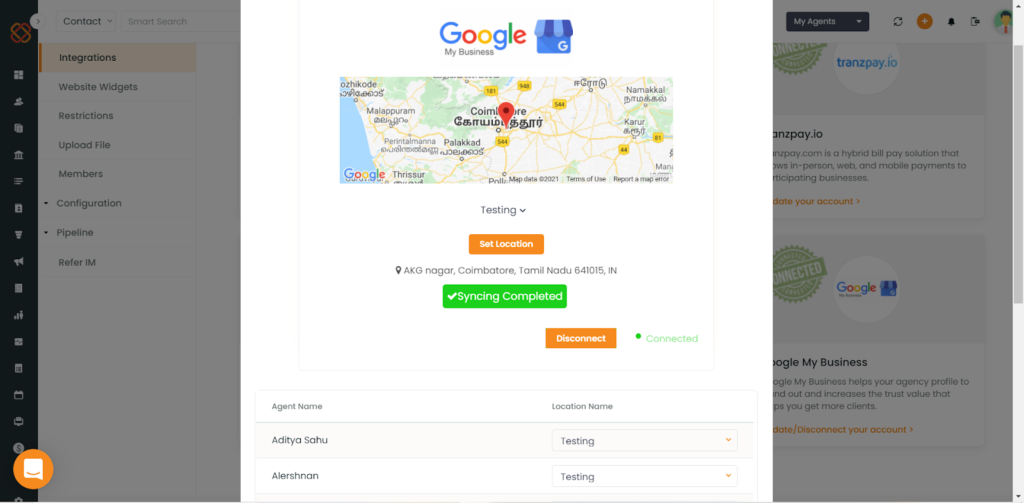 An agent will have access to the Google Reviews that are related to the business location that is assigned to him/her. Admin will have access to the Google Reviews of all the business locations. They can also view all the locations in the carousel. 
Admin view – Multiple business locations in the carousel.
Agent view- Agent's assigned location
You can view  Google Reviews by year, month, day or can apply by a set date range of your choice. Once you have sorted by date, click on the number to view the reviews. You will be able to sort the reviews based on the newest, oldest, highest and lowest ratings.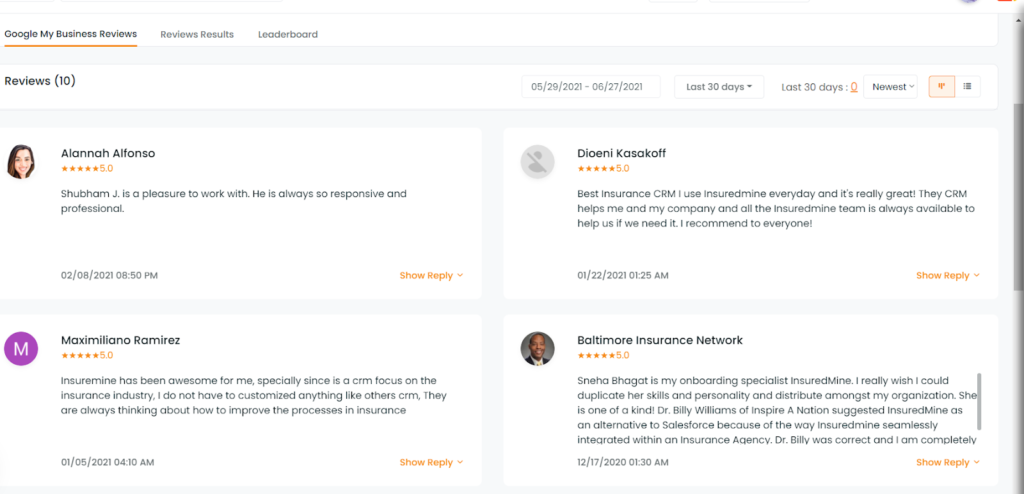 Pagination (Page numbering) in Google Reviews
Pagination makes it easier for you to navigate to the page that you want to view. The long list of 
reviews
 is easily managed with the help of pagination (page numbering). Navigate to Google Reviews and click on Google My Business Reviews to view the reviews that you have received from your clients. Navigate down and click on the numbers to navigate to the next page.

How to reply back to the reviews received?
You can click on the reply button to revert back for the reviews you have received. 
You can also view your replies, on clicking on the replied drop down.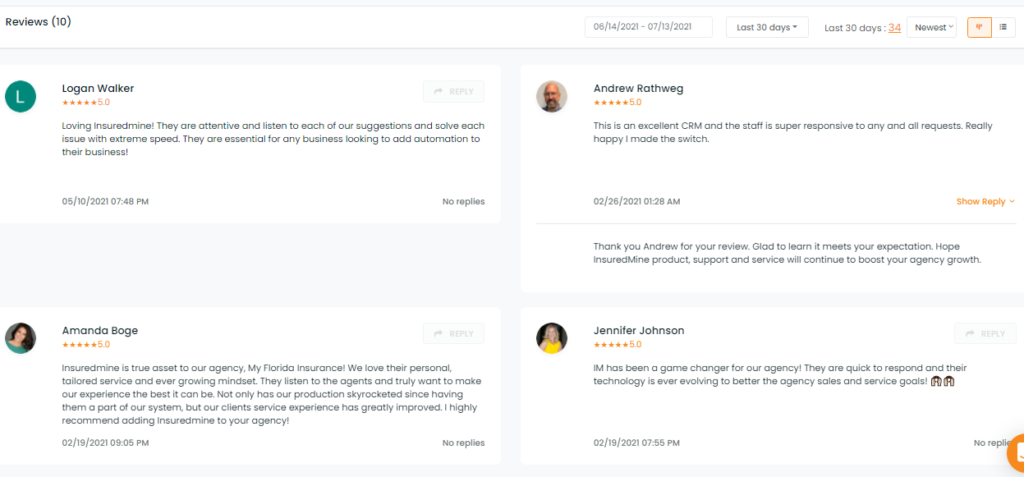 There are two views: Card view and Table view:

You can also sort the list view based on –Newest, Oldest, Highest and Lowest.

Note: If by any chance the Admin disconnects the Google My Business integration with InsuredMine portal, whatever data that has been integrated previously can be viewed by Agents and Admin, but will not be functional unless the Admin connects it back.
In case the Google My Business account gets disconnected or not connected, it will show the below-mentioned message. 

Note: Below we have provided a short synopsis in table format, how you used to manage your Google Reviews, and how easy it has become now to manage the reviews from InsuredMine portal.
| | |
| --- | --- |
| Previous | Now |
| Place ID- Search, Find, Copy and Paste | Connect Direct Google My Business- Admin |
| Each Agent Placeid – Manual Update | Admin- Connect Google My Business and All agents connected |
| 5 Reviews from Google | All Reviews from Google |
| No Reply/Response data | Response/Replied data |
| No Reply from IM Action | Can perform action like Reply from InsuredMine |
| No Sorting- Based on review list | Sorting- New, Old, Low, High |
| No real time Sync | Real time Sync- Under Google Reviews – Settings |