In this article, you will learn:
Add/access an intake form on a deal card?
Open the dealcard and click on Import Intake form on the right side of the screen.
2. You will see a pop screen from which you can select the intake form (Quotesheet) you want to upload.  First select the Category (Personal, Commercial, Life and Custom Form).
For personal insurance:
For commercial:
For life insurance:
For custom form:
Once you click on update intake form, there will be a pop-up for confirmation. Click on yes to update.
After selecting a policy category, you may select the lines of business you need a intake form (Quote Sheet) for.
Once a line of business is selected and Preview intake form is chosen, a unique link is generated where the user can fill in the information regarding the risk they are quoting.
PREVIEW: Preview button allows you to open the intake form in a browser. You can validate information either before or after receiving the updated intake form from the client.
Click on the preview button and it will open the form as displayed below.
You can also send the intake form on the dealcard to others. In this case 'others' can be anyone internal to the agency, underwriters or other contacts associated with the prospect. If you select the client, the intake form will be sent automatically to the email address assigned to the dealcard. If you select the others, you will get a pop up screen to populate the email addresses (email screen mentioned below).
From this pop up screen, you can manually enter the email address or addresses you wish to send this Intake form too.
Furthermore, when the prospect or client adds any information the user/agent will receive an email letting them know when any changes have been made.
You can use the quote sheet link to communicate internally within the agency or externally with the link. However, you can also save the intake form as PDF for record or for sending it as an attachment.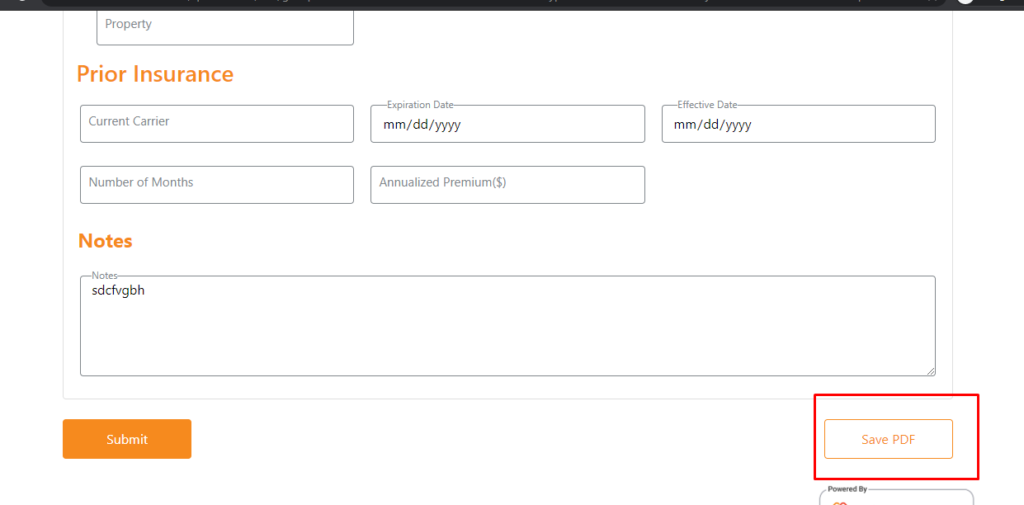 Custom Forms added from Form Builder
In the Step 2 of How do you add/access a intake form (quotesheet) on a deal card mentioned above, you can now add Custom forms built in forms builder, to preview form or send to the customer for gathering information.
Add/upload files in Intake forms
You can now add/upload important documents while adding or previewing the Intake forms. Use the drag and drop feature or click on the Upload Documents segment, Select a file and click Save. Review the files to be added as shown below. Click Submit or Save as Pdf to attach the documents to the form.