Shared Pipeline is designed to allow full staff access to the pipeline. Thus, all the deals in the Shared Pipeline will be visible/accessible to all the staff. This helps to bring visibility to the deal flow and helps initiate collaboration. However, you can always move a deal from a Shared Pipeline to a Private Pipeline. Mentioned below are the steps on how to use a Shared Pipeline and move deals back and forth from Personal to Shared.
Stage/Board Creation:  Please use this link
Once the stages are created, they will be available on the Pipeline of all users.
Deal-card Creation:
To create a deal-card, please follow these steps:
Click on either of the two "Add deal" buttons on the deal-board.
Fill in the required details and click save.
Deal Card will be created.
Please note: Any deal Card created on the "Shared" Pipeline will be visible to all agents in the agency.
If an agent wishes to move any card to their personal Pipeline from a shareable Pipeline, he can do it by: Logging into his account, selecting the specific card he wants to move, then clicking on the three dots and then selecting the option – Move to Private.  Once moved to personal, they can switch from "Shared" to "Private" Pipeline to view the card.
The agent can also assign the same card to another agent.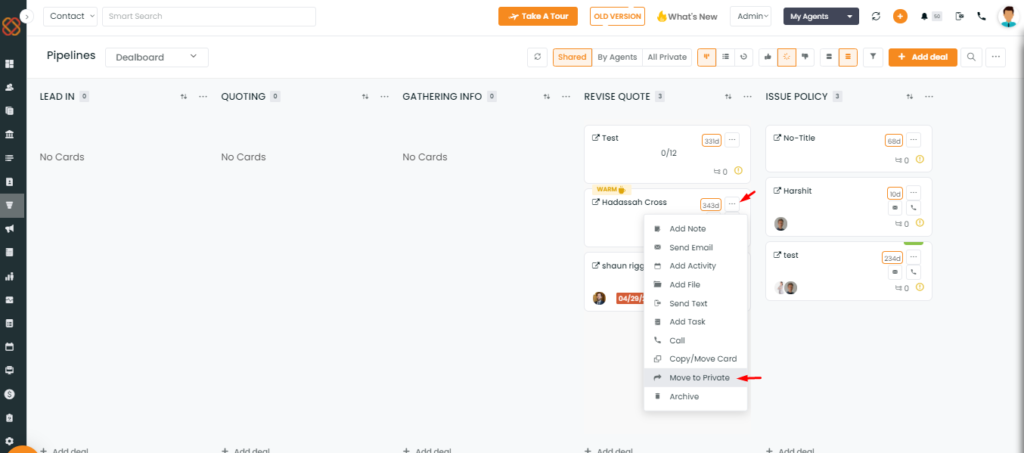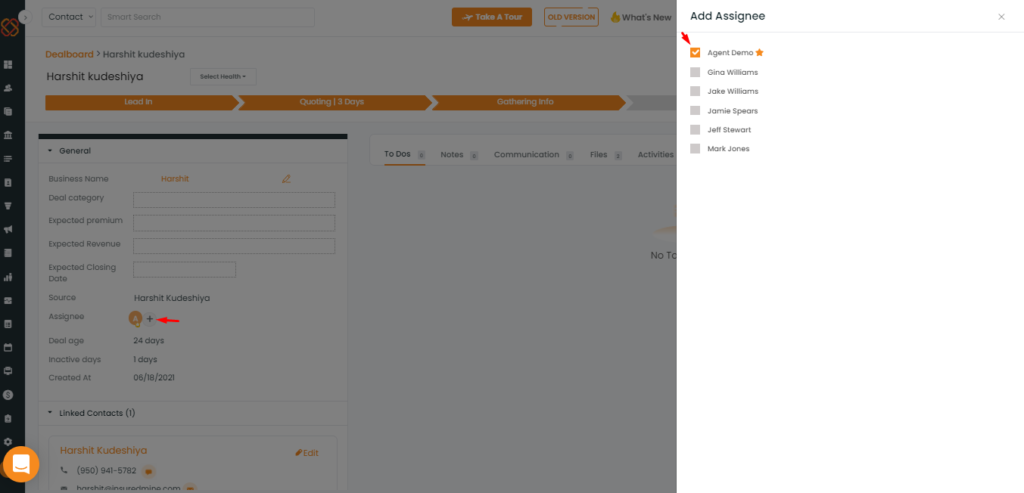 Please Note: Deals can also be created by an agent individually, on his personal deal board by switching from "Shared" to "Private" and then adding deal cards by following the steps mentioned above.
When a deal card from a Shared pipeline is moved to a Private Pipeline stage, the Prospect contact is created in the Directory, i.e when a card is generated in Shared Pipeline that card may not have a prospect in the contact.
To create a prospect in contact – move a card from shared to private.
For more information on Shared Pipeline – Read FAQ
When you add a Pipeline card on a Shared pipeline board, without adding a user, the system displays a warning note to add contact in the contacts module.  You may enter a Contact Name but if you haven't selected the contact already existing in your contact list, the warning message appears. You are directed to Add contact screen. After you add the contact, you are automatically positioned back to the pipeline card.