Electronic Signature Tool
InsuredMine eSign
Sign, manage and track documents, all from one central platform, and say goodbye to the hassle of paperwork. Remove the friction between customers, get documents signed in real time and shorten sales cycles drastically.
Scale your workflow seamlessly with an electronic signature
Securely sign, send, and manage business agreements using legally binding electronic signatures, all conveniently within the InsuredMine platform. No need for additional tools.
Mastering eSignatures: Simplify Document Workflow with InsuredMine
Discover the power of eSign with InsuredMine in our live webinar. Join us to explore the benefits, features, and best practices of electronic signatures. Our experts will guide you through the process, share valuable insights, and answer your questions. Don't miss this opportunity to unlock the full potential of eSign. Watch now!
Collaborate with customers
Boost collaboration and expedite contract turnaround time with the most user-friendly e-signing tool available. Ready to enhance your team's efficiency?
Watch our product demo
Discover how to streamline document processes with InsuredMine eSign.
The preferred e-signature solution trusted by agencies of all sizes
Discover the agencies that are currently leveraging eSignatures today.
Integrations
We work with your tech stack
Broaden the capabilities of InsuredMine CRM with our extensive range of integrations for popular third-party applications such as Zapier, Twilio, and your AMS (Agency Management System). With the ability to create, manage, track, and eSign contracts directly within InsuredMine, you can accelerate your sales cycle by incorporating our electronic signature solution into your CRM.
Customer Success with InsuredMine eSign
Discover how our E-Signature can streamline your workflow, save time, and boost productivity.
Customer Success Story
Gila Insurance Group maximizes operational efficiency
Customer Success Story
Efficiency enhancement at Schneider Insurance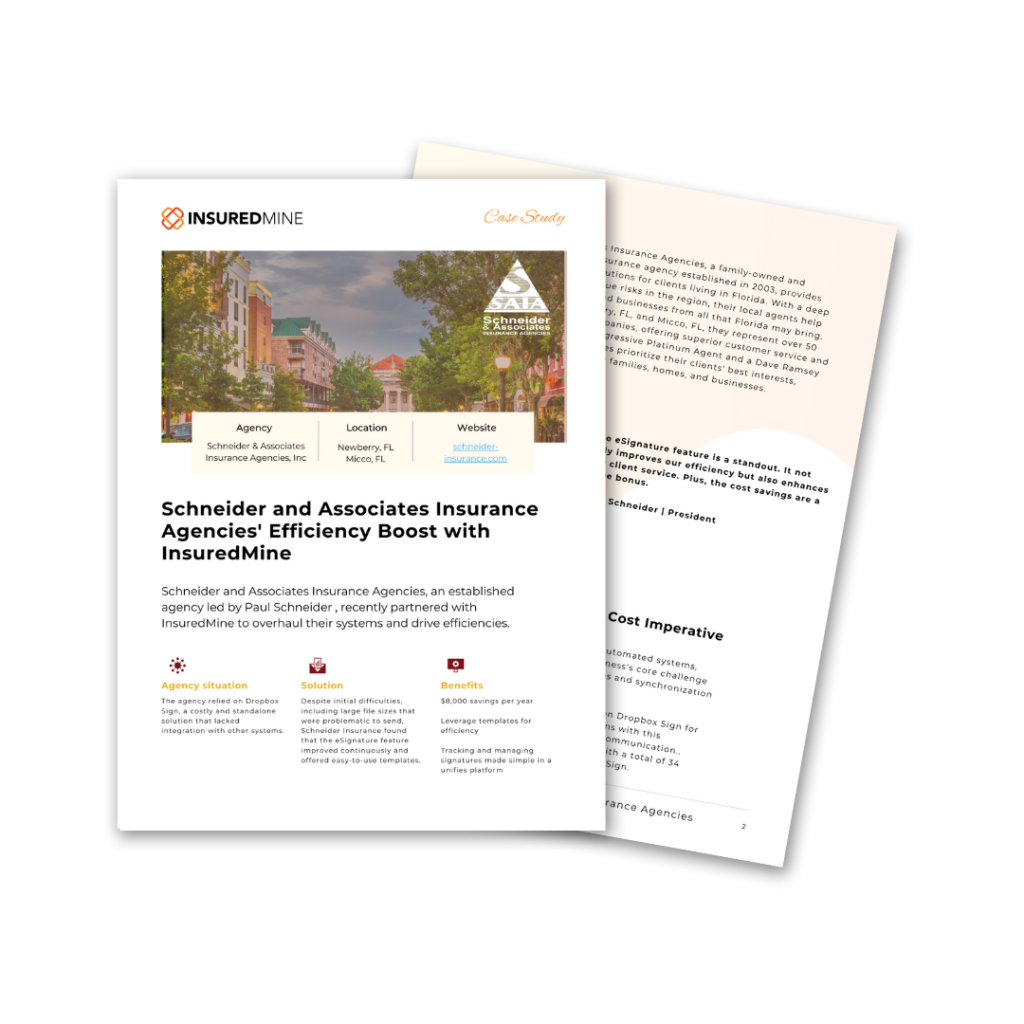 Check out how InsuredMine's eSignature tool stacks up against the other guys
We take pride in our distinctive features. Here's how we compare to other e-signature tools:
Questions?
Frequently Asked Questions
Curious about implementing InsuredMine eSign? Check out these commonly asked questions.
Responsive Customer Support
All the support you need to keep things moving
Rest assured, we are here to provide the support you need, right when you need it. The InsuredMine customer success team is readily available to assist you through email, phone, or even a quick Zoom call. Best of all, our support is included at no additional cost in every plan.