InsuredMine has recently launched Mission IM-Possible, our new initiative to build a series of Insurance Agents Focus Group sessions with experts sharing, teaching, collaborating and discussing best practices in insurance trends. The mission of IM-Possible is to help our agencies get a step closer towards learning the Insurance process better, share ideas to generate more revenue, and learn from top agency owners and leaders. We want to bring our agencies the resources that will help them understand and improve their process and grow their agency.
On April 28, 2022, InsuredMine kicked-off Mission IM-Possible with the first topic, Sales Pipeline Automation. Our speaker, Jennifer Powell from Deeley Insurance Group shared their incredible journey to showcase how they used InsuredMine CRM to address their biggest pain points of finding a sales CRM to build their sales pipeline automation.
Deeley Insurance Group is an agency based in Willards, Maryland with 60+ employees. Their agency specializes in business and personal insurance. Deeley Insurance Group started with InsuredMine in November 2021 and by January 2022 they had completely set up their pipeline in InsuredMine. Jennifer Powell shared why it was necessary to build pipeline automation in understanding the customer journey from lead development to renewal workflow. InsuredMine had helped them with improving their process, efficiency and data analytics. Take a look at some of the pain points InsuredMine has helped Deeley Insurance Group solve.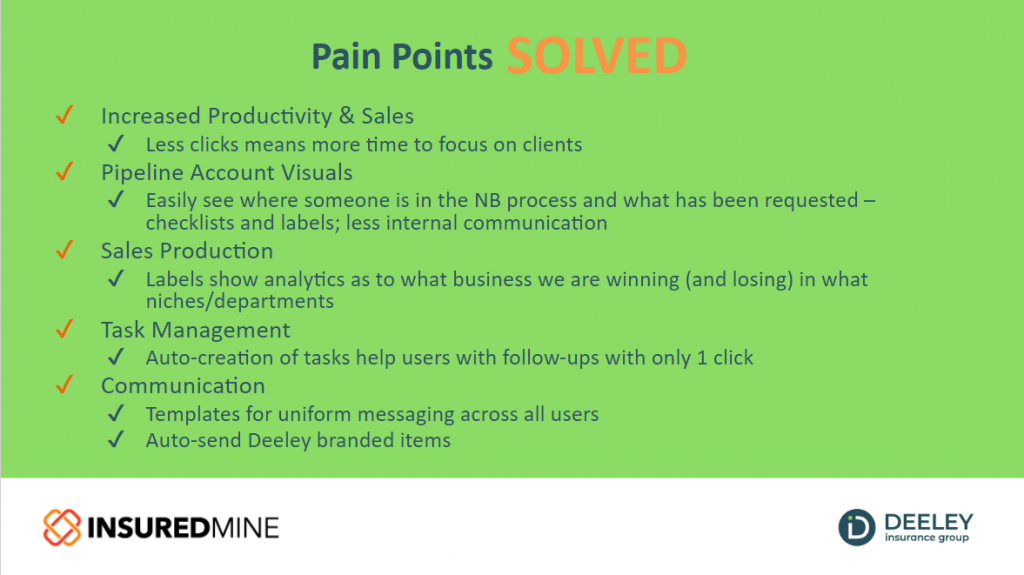 The Deeley Insurance Group uses pipeline automation through InsuredMine features such as:
Checklists

Labels

Won/Lost Triggers

Notifications/Emails

Tasks

Auto-Create Deal Card

Inactive Card Settings
"We aren't even close to using everything InsuredMine has to offer, so it's only going to get even better! That's only just a touch of what we are doing in the system and we know we have a lot more to do," said Jennifer Powell.
What resource did you find the best to become the expert that you are?
"The InsuredMine team is awesome. We work hand-in-hand. So we at Deeley push outside the box. We always want things that are bigger, better, and the best as it can be and we ask for things in the hopes that it will help people and other agencies like it helps us. There is always a reason for why we ask for the things we ask for. I always look for what's new, what's best and their updates and releases. We try to implement them the best we can."
Jennifer Powell
Operations Analyst
Deeley Insurance
Our next focus group will be held May 12, 2022 at 11:00 AM CST. This time, we will be discussing Women in Insurance. Register now for the next Mission IM-Possible by visiting https://www.insuredmine.com/mission-im-possible/.
These series of focus groups will allow you to take a glimpse into some of the features IM has to offer and the best practices of other leading agencies. Come join us on this journey as we dive into the best CRM tool for insurance agents to extract the maximum output with minimum effort. Replace the word "overwhelming" with IM Possible!
Did you miss Mission IM-Possible: Sales Pipeline Automation? Watch it here!