One of the core missions of the InsuredMine platform is to help agencies in sales efforts – To increase conversions and close rates in the shortest time possible.
Deal Board can be used to manage your sales process by defining your sales flow and applying it in every deal to track details and learn from that analytics – what is working and what needs improvement. 
For consistency, all members of your agency will have the same sales process (Sales flow) as it will be easier to transition a prospect from one producer to another with such sales stage consistency.
Agency Admin will set up stages for all producers and CSRs to apply to their sales flow. 
Manage Deals: You have successfully created a prospect card (deal) that you can click on it to expand to add more information.
There is four segments in a detailed deal card:
Header
Left Actions
Right Actions
Center activities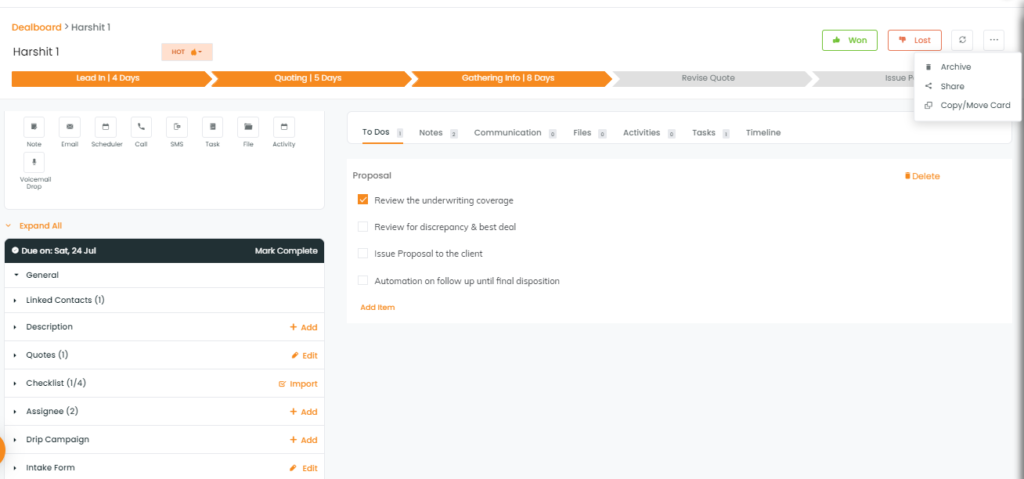 Deal Name
Deal Health
Business Name
Contact Name
Deal Category
Expected Premium
Broker fee
Source
Win
Loss
Settings
Refresh
Lead Creation Data
Expected Close date
Expand All
General (Deal Card Details)
Linked Contacts
Description
Quotes
Assignee
Policy Data
Custom Data
Overview
Quick Actions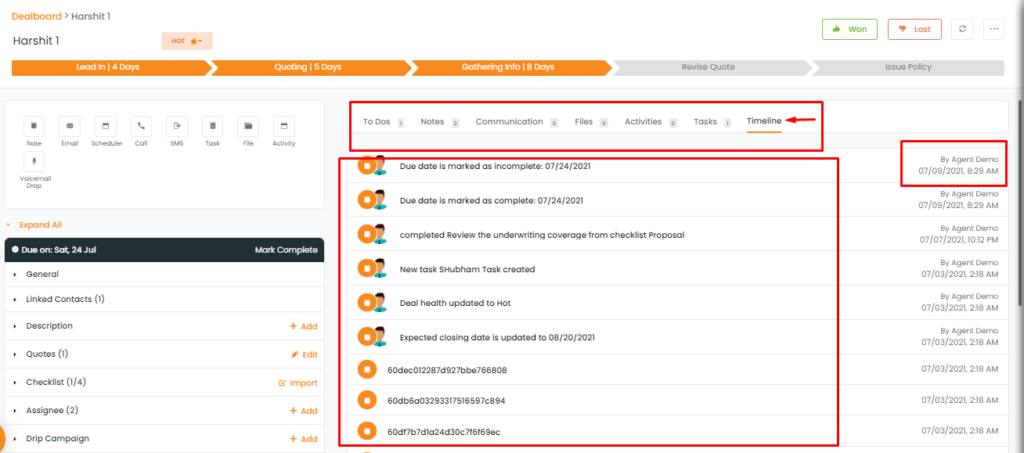 Deal Activity – It is divided into six categories including – To Dos, Notes, Communication (Email, Text, Call & Voicemail Drop), Files, Activities, Tasks, & Timeline. All these activities are time-stamped and will show up chronologically on the timeline.
Action type
Action Owner
Action date
Settings